Every August since 2011, Indian badminton has thrown up excellent news of medals either at the World Championships or the Olympics.
On Friday, HS Prannoy defeated the mighty Viktor Axelsen to continue the good tradition. The system – Badminton Association of India, Target Olympic Podium Scheme the government's Sports Authority of India, and more crucially the top academies with former playing legends-turned-coaches along with the all-important players' individual ambitions – delivers medals year after year, giving the semblance of a sport in brilliant health.
But this consistency at the very top of the pyramid masks the struggles of the second, third and further rungs below making them invisible, as the trickle-down of money has simply not happened.
While the 20 elite players rake in the funds and sponsorships also comfortably settle into cushy lives where they need only focus on top performance, for the 900 serious players below that cream level, financial stability remains precarious.
The BAI and SAI, too, have budgetary limitations and pour the development funds into junior programs with the sole aim of identifying the next elite-level champion. Unlike cricket, where the domestic system and local T20 leagues make the sport sustainable for a larger number beyond the national team, badminton has not managed to make taking up the sport seriously sustainable for the masses. Anyone not in India contention struggles.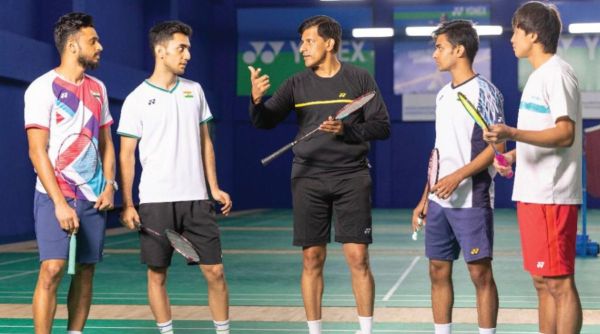 (From left) Mithun Manjunath, Lakshya Sen, Vimal Kumar, Kiran George and Meiraba M at the Prakash Padukone badminton academy
It is with this thought in mind that promoters in Bangalore came up with the Grand Prix Badminton League (GPBL). It happened after the BAI's own Premier Badminton League (PBL) came to a grinding halt since the pandemic, and deprived several domestic players of the much-neded buffer income.
The GPBL, squeezed into two weeks and with a total of Rs 3 crore prize purse for 65 peripheral Indian players plus 15 foreigners, was supposed to start this Sunday. But BAI sent out a general circular warning players to stay away from "unauthorised leagues".
Many are scared to dip their toes into GPBL fearing being punished when all they wanted to do was earn some honest money (ranging from 2 lakh to 15 lakh) from playing two weeks of a league with some interesting innovations.
No one can fault BAI for trying to protect their domain – and PBL was a fine sports property to own. However, it was terribly challenging to pull off financially, given the top international players demanded sums to the tune of 1.5 crore to turn up, making it unviable for teams, which ran into losses over multiple seasons.
But in its third year of not taking place, there is uncertainty over the PBL's resumption while domestic players struggle as all funding is focussed on the elite 15-20. Meanwhile, the BAI could have happily on-boarded GPBL which runs on a tighter, sustainable budget – Rs 1.5 crore for the entire team, Rs 10-12 crore in total with modest player payouts, which can resuscitate entire careers at that level.
Finals up for grabs as H.S. Prannoy 🇮🇳 takes on Kunlavut Vitidsarn 🇹🇭.#BWFWorldChampionships #Copenhagen2023 pic.twitter.com/dpXXKzrPj0

— BWF (@bwfmedia) August 27, 2023
Prannoy's resurgence at 31 is a great example that careers can be prolonged even at the highest level, if you find support.
Krishna Prasad Garaga, who is one-half of India's third-best men's doubles combine, is facing acute family financial stress, and the Rs 9 lakh he would've made at GPBL could've helped ease his troubles.
Upcoming Mithun Manjunath, the top buy at Rs 14.5 lakh, who struggled all his early years to reach this level had spoken about saving some of this money to secure his future. Prithvi Roy, a promising player, was picked for Rs 7 lakh and was grateful that a doubles shuttler could use this amount to re-invest in his career and take the next step.
A recent winner of a national ranking in Pune, Raghu M, would have been able to play 4 to 5 tournaments abroad to look to get his ranking up, knowing he wasn't yet a Lakshya Sen or Priyanshu Rajawat, whom sponsors were falling over themselves to fund.
Then, there was the case of B Sai Praneeth and Sumeeth Reddy. Both Olympians, Sai Praneeth even won the World's bronze the same year as Sindhu won gold at the Basel World Championships in 2019.
However, not quite steered by a management agency that would line up brand endorsements for him, his World Championships bronze, the first after Prakash Padukone for India, was quickly forgotten and couldn't secure his future. Now nearing the end of his career, he will be deprived of a decent, if small, retirement amount of Rs 12-13 lakh if the GPBL doesn't go ahead.
Sameer Verma played at the highest levels winning some memorable matches in Super Series but injuries that took longer to heal saw him fall out of the ranking bracket that ensures association/government funding.
When you admire Priyanshu Rajawat's reflex defence next time, you have Sameer Verma to thank. Verma has been the inspiration for Rajawat's strokes. Out of the funding system now, Verma was hoping the Rs 10-12 lakh from GBPL could help him resurrect a career, and travel for a few international tournaments because his sponsors have turned their backs on him.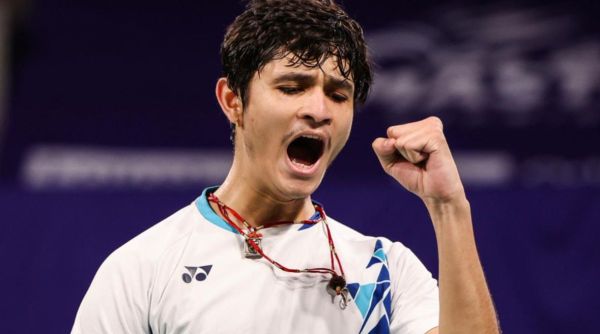 Priyanshu Rajawat clinches his first BWF World Tour Super 300 Title at Orleans Masters 2023. (BAI)
His PSU job earns him Rs 10-12 lakh for monthly expenses, but two weeks of GPBL would've given him the cushioning to extend an international career, give it a last go just like Prannoy, knowing the Indian team spot has passed him over as it focuses on a younger Rajawat.
"If PBL is revived, then it's OK, these players might still get picked. But if it isn't and as long as there are no conflicts with the federation, the GPBL won't harm the sport in any way. It will only help players. Because players need money. Money is required at whatever level to sustain this sport," says senior coach Vimal Kumar.
The GPBL had promised they won't even chase the top names busy with Olympic qualification currently, but their effort to help the next rung financially will also be thwarted if players fear vindictive action in case they turn up for the League.
"The top players are well supported, but it's wrong to expect the government to do everything for the rung below. When private individuals come forward and can help peripheral players, we must let them," Vimal adds.
While India's international triumphs in cricket in 2007 and 2011 plus the IPL ensured that BCCI opened trickle-down avenues for former players and domestic cricketers to make money, the Indian national badminton teams still don't have a title sponsor after winning the Thomas Cup, an equivalent of a team World Championships.
Money is needed to travel to tournaments, for coaching and diet for the third rung, and those beyond the TOPS umbrella. One would need Rs 20-25 lakh to play international tournaments to make a serious charge at top rankings.
While BAI did well to restart a domestic structure, a winner at a national ranking will only win Rs 48,000, and take home Rs 33,000 after taxes. Merely travelling to Delhi for a tournament from the south can cost Rs 25,000-30,000.
Hundreds make the trip, and only one takes home Rs 33,000, a no-profit, no-loss endeavour. A national champion made Rs 60,000 twenty years ago and makes Rs 3.25 lakh now, but that's just one tournament with one winner. If a league can yield Rs 4-5 lakh for around 50 players for two weeks' worth of playing, it can only bode well for Indian badminton.
Internationally, too, the prize money in badminton isn't great shakes. You spend Rs 2-3 lakh to travel to an international Challenge and win at best USD 1500 (Rs 1,23,780).
While India's elite get bathed in money, there is a real struggle to break through or break even at the rungs below. The steady stream of champions at the top hasn't quite helped change lives for those below. The best public sector jobs with oil companies secure day-to-day living with salaries of Rs 10-12 lakh, but those are only if you've played for India.
A Railways job will make you Rs 6 lakh a year but still sees a fringe India doubles player struggle financially if he or she wants to resuscitate an international career.
Most Read
1
We were denied access to tech… Chandrayaan-3 landing changes that permanently: Former ISRO chief K Kasturirangan
2
Anil Sharma on Gadar 2 possibly breaking Pathaan's all-time record: 'Our box office numbers are real, not fake'
The starting jobs in banks, Income Tax, and Airport Authority of India for players in their early 20s without a TOPS cover, would be Rs 35,000 a month, plus expect them to put in 3-4 hours of office work daily.
The GPBL would've supplemented that income with Rs 4-5 lakh in two weeks, giving them some hope of trying their luck in international meets to push up rankings. There are hundreds of cases of players finishing as coaches in small academies, for a meagre salary of Rs 40,000.
While they might be grateful for even that much, the BAI's circular warning mid-rung players off leagues – without naming GPBL – makes you wonder if there was an opportunity to help them here, but the national federation just didn't see it. The PBL might well get resurrected someday in the distant future, but must players not make money till then?


Thanks for Visiting Sarkari Results Daily (sarkariresultsdaily.in)