Travel and access to the national capital during the G20 Summit days will be severely restricted, particularly in the New Delhi district — also known as the Lutyens' Zone — where only residents and those in essential services jobs will be allowed to enter after proving their identity, according to a traffic plan shared by the Delhi Police on Friday.
Also read: Traders in New Delhi want the markets to remain open during G-20
The restrictions will apply for the period between September 8 and 10, with the strictest ones in force on the final two days when heads of states and ministers of the Group of 20 (G20) nations are scheduled to arrive in Delhi for the Summit that marks the biggest multilateral event to be held in the city since the 2010 Commonwealth Games.
Among the expected and confirmed attendees are US President Joe Biden, Chinese Premier Xi Jinping, French President Emmanuel Macron, and Canadian Prime Minister Justin Trudeau, and thousands of people invited as delegates, government representatives and as other dignitaries.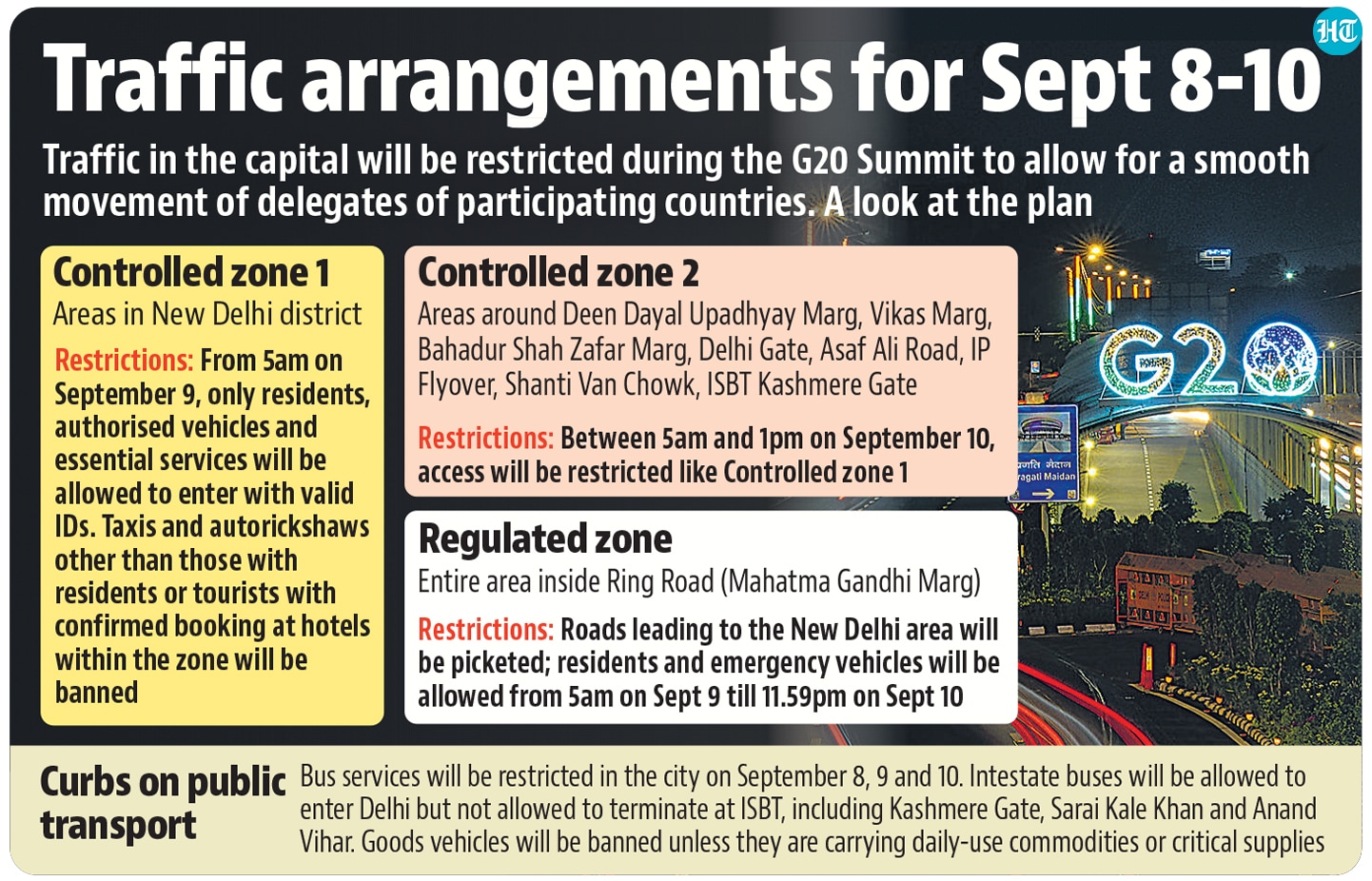 The restrictions have been divided into controlled and regulated zones. The New Delhi district has been classified as Controlled Zone 1, and certain other stretches — such as the Vikas Marg leading to ITO, roads near the Red Fort, and the vicinity of the city's two main train stations — close to the venue have been clubbed into Controlled Zone 2.
The Regulated Zone will apply to all areas within the Ring Road, said Surender Singh Yadav, the special commissioner of police (traffic), who added that a helpdesk will be launched on the Delhi Police website with list of available transport and medical facilities.
"There will be no impact of these restrictions on ambulance movement or essential services. Since no buses will be allowed to move on the city roads between the midnights of September 7 and September 10, people are advised to use the Metro for commuting to their destination," he said. Police officials, however, have separately written to the Delhi Metro asking them to shut services at some stations.
But the scale of restrictions are staggering and indicate the city is still a long way from becoming a Capital that can host high-profile global events while letting normal life go on, without needing to virtually lock itself down for the sake of security and convenience of guests.
Beginning September 9, 5am, only residents, authorised vehicles, and essential services providers will be allowed to enter Controlled Zone 1 and they will need to show documents to prove their identity, Yadav said. A list of essential services was not immediately available but these are likely to include media professionals, doctors, and drivers ferrying food and other essential commodities who have the requisite permissions.There may also be passes issued for smooth transit, like during the Covid lockdowns, but this plan is yet to be finalised, people aware of the matter said.
In the Controlled Zone 1, taxis and auto-rickshaws will be banned unless they have passengers who are residents or tourists with confirmed bookings at hotels within that zone. Bus services will be restricted across the city for three days: September 8, 9 and 10.
Between 5am and 1pm on September 10, the last day of the summit, similar restrictions will come into force for Controlled Zone 2. In this case, access will be restricted for New Delhi Railway Station from Ajmeri Gate, Old Delhi Railway Station from Shyama Prasad Mukherjee Road, Shanti Van Chowk from Geeta Colony, ITO from Vikas Marg, Rajghat Chowk from Jawahar Lal Nehru (JLN) Marg side, and to Guru Nanak Chowk from Minto Road.
In the regulated zones, roads leading towards New Delhi district will be picketed at various intervals and only residents, authorised vehicles, emergency vehicles, and vehicles of passengers travelling to the airport or the train stations will be allowed from 5am on September 9 till 11.59pm on September 10.
In recent weeks, the government has issued orders to shut markets, offices, schools and other businesses between September 8 and 10, a period when VIPs from India and abroad are expected to travel back and forth between the convention centre at Pragati Maidan and the city's various hotels. The most high-profile hotels fall within Controlled Zone 1.
To be sure, September 9-10 is a weekend.
Yadav said people living in the New Delhi area or tourists with hotel bookings in that zone will be allowed to commute using auto-rickshaws and taxis.
But monitoring could be a challenge.
"People coming from Delhi airport will only be allowed to enter the New Delhi area after showing their bonafide identity documents. Road travel to IGI Airport is also likely to be affected during that period. For passengers going to airport by their own vehicles, we have made some special arrangements. They are advised to make travel plans with sufficient time in hand," he said.
According to officials, over 10,000 police personnel will be on the ground to ensure smooth and safe traffic movement in the national capital.
Also read: President Putin won't personally attend G20 Summit in India, announces Russia
In addition to buses, the blanket bans also include all types of goods vehicles that will be banned from Delhi unless they are carrying daily-use commodities like milk, fruits, and vegetables or critical supplies like medical equipment.
"Medical emergency vehicles will be assured hassle free movement throughout Delhi. Movement of the general public will also be facilitated via alternate routes and modes of transport," Yadav said.
The Special CP also said that intestate buses will be allowed to enter Delhi but not allowed to terminate at the inter-state bus terminals (ISBT), including Kashmere Gate, Sarai Kale Khan and Anand Vihar. "They will be stationed at temporary terminals. For ambulance service, the helpline number is 6828400604, which will come in operation from the night of September 7," he said.
The Delhi Traffic Police, in its advisory, said commuters travelling via road from Gurgaon to Terminal-3 of IGI Airport can take NH-48 — Rao Gajraj Singh Marg — Old Delhi Gurugram Road — UER II — Service Road NH-48 — T3 Terminal Road. "From Dwarka to Terminal 3, commuters can use Dwarka Sector-22 Road — UER II — Service Road NH-48 — T3 Terminal Road. For Terminal 1, they can travel via Dwarka Sector-22 Road – UER II – Service Road NH-48 – T3 Terminal Road – Service Road NH-48 – Sanjay T-Point – Ullan Batar Marg," the advisory stated.
The advisory also said that the commuters travelling from New Delhi and south Delhi to T-3 and T-1 can use AIIMS Chowk — Moti Bagh Chowk — RTR Marg — Sanjay T-Point — T3 Terminal Road and from Sanjay T-Point to Ullan Batar Marg and Terminal T1. "For the commuters going to airport from west Delhi, it is advisable to take Punjabi Bagh Chowk – Najafgarh Road – Pankha Road – Dabri-Dwarka Road – UER-II – Service Road NH-48 – T3 Terminal Road," the advisory said.
Thanks for Visiting Sarkari Results Daily (sarkariresultsdaily.in)