For a moment, Neeraj Chopra, with the Indian flag fluttering behind him, was alone with the third-placed Czech Republic's Jakub Vadlejch for the photo-op after winning the Gold at World Championships. He would cast a look to his side, urging Pakistan's Arshad Nadeem to join him. Nadeem, it turns out, was looking for a Pakistan flag but would join Chopra without one, and both would beam gold-and-silver smiles. Together, they have done much to stub out any usual Indo-Pak rivalry talks for a while now. A day before the final, Arshad would send a heartwarming message to the Indian champ: "Neeraj bhai, Aap bhi achcha karein, Hum bhi acha karein. Aapka naam hai world me, hamara bhi naam aye," he told Sportstar. (Brother, may you also do well, and I also do well. You have a name in the world. I hope I also get my name in the world)".
After the final, not long after that photo-op, Neeraj would return his compliments: "I don't use my mobile much before competition but today I looked at it and the first thing was India versus Pakistan … I felt good that Arshad threw well and we discussed how both our countries are growing now. Earlier there were European athletes but now we have reached their level," Chopra would say.
Nadeem, who had crossed 90m with a 90.18 m throw at Birmingham in last year's Commonwealth Games, made a best throw of 87.82 m in Budapest on Sunday night. His throw was only .35 m behind Chopra's earlier best mark of 88.17 m in the night during the men's javelin final. It was the eighth time that the two athletes were competing against each other at the international level. Here is a look at the times when the two Asian athletes faced each other.
2016
In February 2016, the two competed against each other for the first time in the South Asian Games at Guwahati in February. Whole Chopra won the gold with a throw of 82.23, Nadeem took the bronze with 78.33 m. The second time the duo faced each other was at the Asian Junior Championships in Vietnam, where Chopra won the silver with a throw of 77.60 m and Nadeem claimed the bronze with 73.40. The India-Pakistan rivalry was seen at the World U-20 Championship in Poland, where Nadeem missed out qualification for the final with a throw of 67.17 to finish at the 15th spot. Chopra won that U-20 world title with 86.48, setting a new world U-20 record. Incidentally Nadeem competed in only these three tournaments of international standards while Chopra competed in ten tournaments, crossing the 80 m mark twice.
2017
In a year, where Chopra appeared in 11 international standard competitions crossing the 85m mark once, Nadeem featured in three such competitions with the Asian Athletics Championships in Bhubaneswar being the only time that the duo competed against each other on the field. Chopra won the gold medal with a throw of 85.23m while Nadeem finished seventh with 78.00 m.
2018
With the Gold Coast Commonwealth Games in Australia and Asian games in Jakarta, the two met twice on the field. In Gold Coast, Chopra won the gold with a throw of 86.47 m while Nadeem finished eighth with 76.02 m. In Jakarta, Chopra seized the gold with a new national record throw of 88.06 m with Nadeem pocketing the bronze with 80.75 m. It was the first time when both spoke about each other; Neeraj shook hands with Nadeem and called him for a photo with both holding the respective national flags.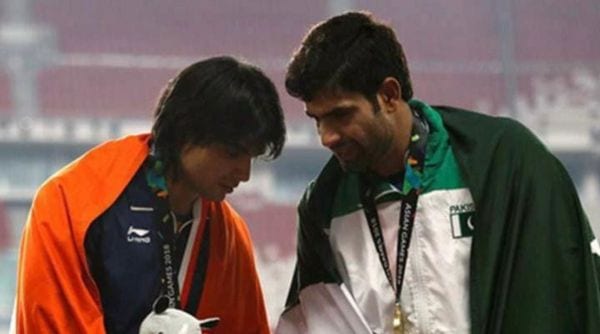 India's Neeraj Chopra and Pakistan's Arshad Nadeem share a touching moment at the Jakarta Asian Games 2018 podium. (Photo: Reuters)
"Neeraj is an amazing talent. I have competed with him about eight times (five times actually) now including SAF Games and Asian Junior Championships in India. But he has a foreign coach and I don't. His achievement inspires me and my goal is to emulate him one day, maybe beat him too," Nadeem would say after the Asian Games final event in Jakarta. The Pakistani would then go on to add about Neeraj not replying to his messages, "Neeraj bhai jawab hi nahi dete. He has done it only a couple of times and after that he stopped. I don't know the reason. Maybe he is busy. He has got great technique."
2021
With Neeraj suffering an injury, he and Nadeem did not compete in a tournament together in 2019. Nadeem qualified for Tokyo Olympics with a throw of 86.29 m in the SAF Games at Kathmandu in December 2019, Neeraj would make it after a throw of 87.86m a month later in South Africa. At Tokyo, both topped their groups and in the final, Chopra fetched India a historic gold medal with a throw of 87.58 m while Nadeem ended up fifth with a throw of 84.62 m.
But days later, a controversy sprang up after Neeraj simply stated that he could not locate his javelin after the first throw because Arshad Nadeem was moving with the javelin. With social media going abuzz with conspiracy theories, Chopra had to defend the Pakistani thrower. "I would request everyone to please don't use me and my comments as a medium to further your vested interest and propaganda. Sports teaches us to be together and united. I am extremely disappointed to see some of the reactions from the public on my recent comments, " Chopra had to tweet. Nadeem would later tell The Indian Express, "Neeraj bhai ne bilkul theek kaha hai, Hum dono bahut acche dost hain aur aisi cheezein nahi honi chahiye." (He was absolutely right, we are good friends and these things shouldn't happen).
I would request everyone to please not use me and my comments as a medium to further your vested interests and propaganda.
Sports teaches us to be together and united. I'm extremely disappointed to see some of the reactions from the public on my recent comments.

— Neeraj Chopra (@Neeraj_chopra1) August 26, 2021
2022
They competed only once together in the World Athletics Championship in Eugene, USA. Prior to the world championships, Chopra would create a national record with a throw of 89.94m in Sweden. Chopra won the silver medal at Eugene with a throw of 88.13m while Nadeem finished fifth with 86.16m. 'I spoke to Arshad after the competition. I told him that he did very well. He replied that he had issues with his elbow. I further congratulated him for a great throw and it was a great comeback from his injury and it was commendable that he threw the javelin over 86 metres." Chopra had said.
Most Read
1
World Athletics Championships 2023 Highlights: Neeraj Chopra wins gold; Relay runners finish 5th; Parul Chaudhary scripts national record
2
Gadar 2 box office collection day 17: Sunny Deol film beats Shah Rukh Khan's Pathaan, becomes the fastest film to cross Rs 450 crore mark
When Nadeem won the gold in CWG games in Birmingham, becoming only the second Asian to go past the 90m mark, the Pakistani athlete wished Chopra a quick recovery. "I missed him in the competition here. Mashallah, he is a very good friend. Inshallah Alla tallah unko bhi sehat de, who hote toh aur bhi maza aata ( May god grant him good health, if he was here, there would have been more fun)" Nadeem said.
2023
The Pakistani javelin thrower was making a return after an elbow injury after being sidelined for more than nine months after the Commonwealth Games. In qualification in Budapest, Nadeem had made a throw of 86.79 m while Chopra had topped the qualification with a season best throw of 88.77m. On Sunday night, the two Asian athletes were facing each other for the eighth time in an international final. With Czech Republic's Jakub Valdech, German Julian Weber and two other Indians Kishore Jena and DP Manu being in the top six and Chopra on the top spot after his second throw, Nadeem first made a second throw of 82.87m before making a third throw 87.82m to be placed second behind Chopra. That did not change till the end with the Indian winning the gold and the Pakistani winning a historic silver for his country.


Thanks for Visiting Sarkari Results Daily (sarkariresultsdaily.in)