In the 1970s, the House of the Soviet Cultural Centre situated in the heart of Madras used to be the one-stop place for chess enthusiasts in the city. It is where the city's first chess club named after Mikhail Tal took shape and in the 1980s, the would-be world champion Viswanathan Anand spent hours reading chess literature and locking the board with fellow players.
If the Tal Club sowed the seeds of the city's first chess revolution, resulting in the emergence of Anand and numerous other players in the 90s, the Velammal Vidyalaya in Mogappair has taken the mantle over. Out of the 83 Grandmasters India has produced so far – 73 since the beginning of 2005 – 15 of them are from Velammal, which is eagerly awaiting the homecoming of two of its brightest prodigies, D Gukesh and R Praggnanandhaa. Naturally, it's where parents enroll kids who show the slightest interest in chess.
While chess has been part of the extra-curricular activities in most schools in Chennai for some time, a decision taken by former Tamil Nadu Chief Minister J Jayalalithaa influenced the boom. "In 2013, when Chennai hosted the World Chess Championship contest between Anand and (Magnus) Carlsen, the CM launched a "Seven to Seventeen Program", where each school will coach students to play chess," remembers DV Sundar, who was the vice-president of FIDE and secretary of All India Chess Federation for a decade.
With this in view, the association held clinics for physical directors, who apart from coaching athletics and other sports, took chess under the curriculum. Other factors also contributed. "Moreover, in Tamil Nadu, the state championships are contested by the best in each district. Whoever performs well in district tournaments, qualifies for the state meet. When that sort of transparency is around, parents will keep allowing their kids to play," Sundar tells The Indian Express.
The Napier Bridge in Chennai decorated in black and white colours during the Chess Olympiad held last year. (Express Photo)
The city hosting the Olympiad last year as well as the boys from Tamil Nadu doing well in international tournaments catalysed the game's second wind, he points out.
Robust structure
Although the Russian Cultural Centre no longer conducts chess tournaments, the baton has been passed onto the district associations. According to Sundar, unlike other parts of the country where state chess units don't have a robust system in place, an active culture is leading Tamil Nadu to churn out GMs. "The chess culture has always been there. Even a decade or two ago, some of the GMs would hesitate to play in Chennai Open tournaments because even a player with a low ELO rating would be good. Some of them played chess only as amateurs, but still ended up beating the best in the country," he says.
INTERACTIVE: World's Top Chess Nations
Exposure too has played an important role. "Back then India didn't have too many open tournaments so the chances of these players going abroad and improving their ratings didn't even exist. Chess is not played by affluent people and it is mostly a sport of the middle class. So you had to take it to their reach and schools did play a huge role in it. They were not going to travel to Europe to participate in these events," Sundar said.
More, the merrier
With the AICF adding more open tournaments into their calendar in the last decade with Chennai, Delhi, Mumbai, Bhubaneswar, Kolkata, Guwahati, and Indore hosting events regularly, the numbers naturally increased. With schools inserting chess into their curriculum, the talent pool began to widen. Sundar highlights the role played by Velmohan, who runs the Velammal institutions, for breathing more oxygen into the sport by supporting young talents by giving free education.
At Velammal institutions, every year around 1,000 school students join for chess coaching with a fee being around Rs 2,000 per annum. "Chess is part of their lives here," says Velavan Subbiah, who is the chess coordinator at Velammal. "The first thing we do when we spot a student who shows a lot of interest in the game is to unburden him by taking out studies. Those who play chess tend to be good at academics as well, so you don't need to put extra pressure on them," he explains.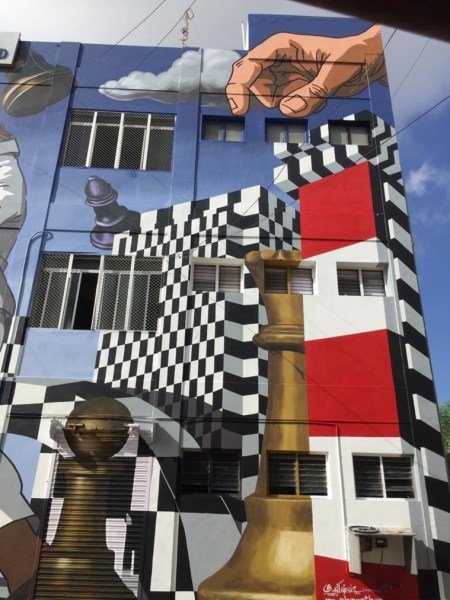 One of the many Chess murals along the East Coast Road in Chennai. (Express Photo)
There, though, are pushy parents who want their kids to do well in chess and score high marks in exams. "That isn't possible. So when we have some outstanding talent, we let him concentrate on chess and allow them to play as many tournaments as possible. They can even take the exams at a later date," Velavan said.
It isn't surprising that Velammal has won the World School Chess Championship five years in a row, where the likes of Pragg and Gukesh have taken part in meets in Russia and the Gulf. "We take 4-5 players and all our expenses are taken care of. When we find players who need help, we provide them with all possible ones. In Pragg's case, even if the government or AICF provides him with a ticket, Velmohan Sir always pays him the flight ticket fare so that he can use it to participate in other tournaments," adds Velavan, whose daughter Varshini is also a WGM.
A visit to the school shows that chess and academics go hand in hand. Every week, there are three chess sessions for students during school hours overseen by coaches from outside. Velavan also ensures they take part in tournaments regularly and don't get stalled. Having overseen the emergence of what is considered a golden era of young chess prodigies, Velavan is already getting his eyes on the next in line. Harsh S, Rohit S, Daakshin A, Aswath S, Tejaswini G are the names that he immediately utters about the next crop. "This has been an extraordinary month for us. First, we had Gukesh, who became No. 1 (India player) and now Pragg is giving us another reason to celebrate. We are planning a grand welcome for both next month," Velavan said.
Apart from the duo, the other GMs to come out of the school include B Adhiban, SP Sethuraman, K Priyadharshan, Vishnu Prasanna, Shyam Sundar, NR Visakh, Karthikeyan Murali, Aravindh Chithambaram, Karthik Venkataraman, Leon Mendonca, NR Vignesh, V Pranav, Bharath Subramaniyam, Arjun Kalyan, Karthikeyan P, Narayan Srinath and women GMs Varshini S, Vaishali R, Rakshitta R and Savitha Shri B. "Chess has become an integral part to many here. If you do well in the sport, it can also lead to getting a seat in top colleges through sports quota. Last year, one of them got a medical seat through this. So it is natural that more and more parents want their kids to take up the sport," Velavan said.
Separate chess wing
Most Read
1
We were denied access to tech… Chandrayaan-3 landing changes that permanently: Former ISRO chief K Kasturirangan
2
Hema Malini opens up on relationship with Sunny Deol, Bobby Deol, says they 'keep coming home': 'We celebrate Raksha Bandhan together'
With the number of students enrolling in the sport increasing every academic year, plans are afoot to open a separate chess wing. "We will have a separate wing for chess players with the top 20-30 getting coached by the best. We are setting up a club where anyone can come and play the sport. Reading materials or any chess literature will be made available. That is our next step in taking the sport forward," Velavan says.
It is not just schools that are opening the doors for students to play chess. Like with cricket, where corporate houses in Chennai have been the backbone of the game, chess has found takers. PR Venketrama Raja of Ramco Group, which has sponsored Anand over the years, is now doing the same with Pragg.
Sundar also gives another reason for the chess boom. "When you have such bright, young talents coming through, it is important to not let go of the opportunity. The system had to provide the base and that is why we hold our nationals in Under-11, U-13, U-15, and U-17 because when the world Under-12, U-14, U-16, U-18 come, our boys and girls get one whole year to prepare," Sundar says. All of these have made Chennai a paradise for chess players again.


Thanks for Visiting Sarkari Results Daily (sarkariresultsdaily.in)